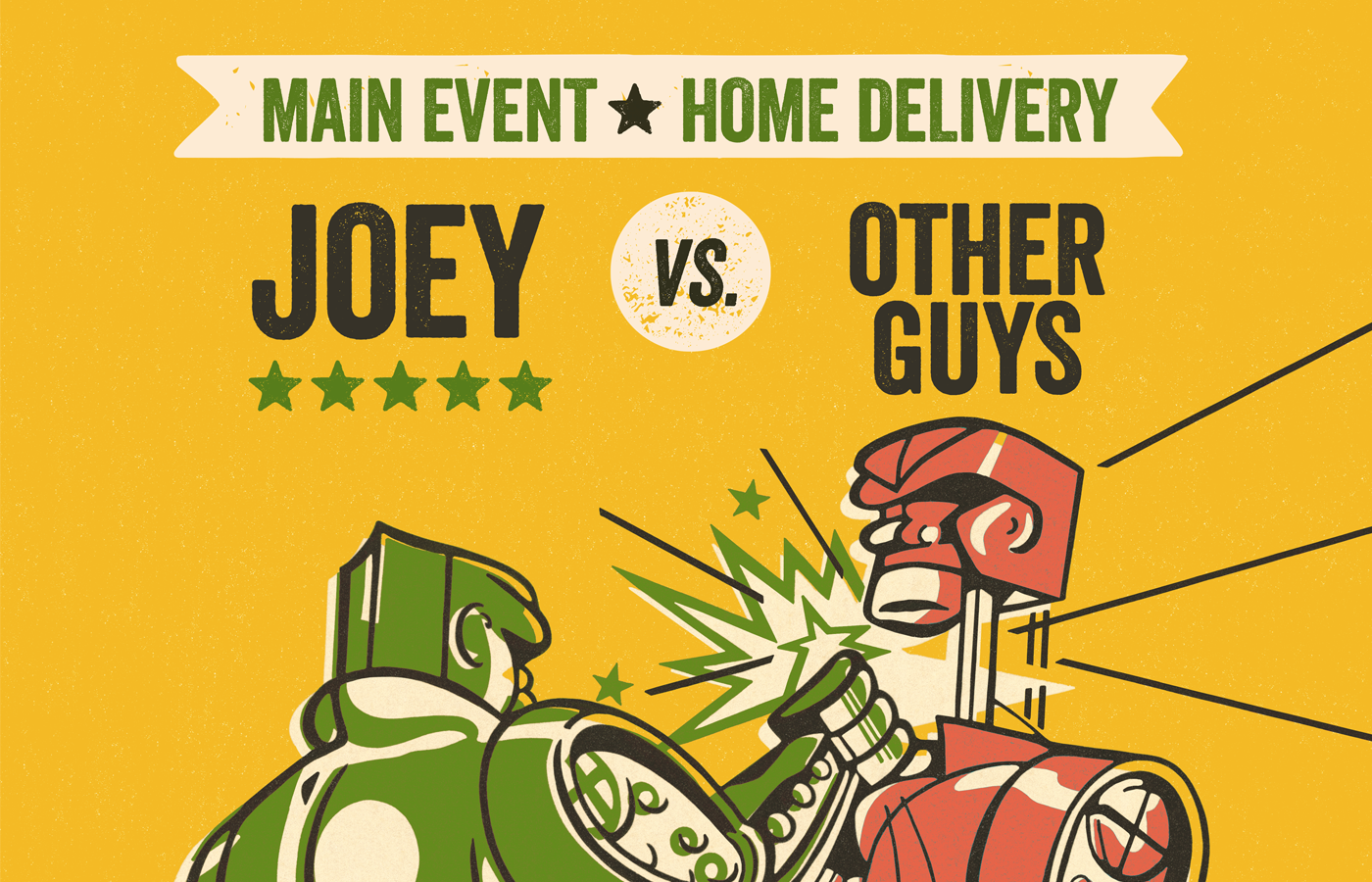 Remember the good old days? The days when you could order something from a LOCAL business and have it delivered quickly and inexpensively. For a while, it seemed that those days were long gone, but home deliveries with Joey may be bringing those days back. Well, we decided to really look at other delivery services and see how their pricing matched up against Joey's.
The Costs of Home Delivery — Is Joey Really The Most Inexpensive?
Now it's easy to say that Joey has the best prices for home delivery, but we wanted to actually prove how much money you can save with Joey. To do this, we took a look at three different deliveries recently completed by Joey. Subsequently, we used uShip, Shiply, Two Men and a Truck, and College Hunks Hauling Junk and Moving to find what different delivery companies would charge for the same delivery.
UShip allows you to select a price you want to pay for delivery. Then delivery companies begin bidding for your delivery at your desired price. You cannot offer a price that is lower than the lowest price accepted for similar deliveries, however, the lower your desired price point, the less likely a delivery company will make a bid on your order.
Shiply functions similarly, but you don't have to put in the desired price. Instead, delivery companies offer a price to you. You can accept this price or wait for a lower offer.
With Two Men and a Truck and College Hunks Hauling Junk and Moving, unless you are doing a full apartment or house move, you'll need to call them directly to get a quote. We found that both companies have a 2 hour minimum to their deliveries and also start charging you when their trucks leave their place of business, NOT when they arrive to pick up your items. Additionally, their trip back to their home base is also added into the cost.
To summarize our findings: Joey was almost always the least expensive delivery option in all three of our case studies. However, don't take our word for it. Take a look at the numbers for yourself.
10 Miles (from pick up to drop-off)
Sectional couch with chaise, lounge chair, and outdoor bench
Joey recently delivered a couch with a chaise, a complimentary living room chair, and an outdoor bench to a residence 10 miles away. Here is how Joey compared to other competing quotes…
Cost of Delivering 3 Pieces of Furniture 10 Miles
Cost of Delivering 3 Pieces of Furniture 10 Miles
In this instance, the range between the lowest quote and the highest was quite extreme. While Joey charged only $70 for this delivery, the others were at least twice as much.
48 Miles (from pick up to drop-off)
Joey delivered an office desk from Ballard Designs to a residence 48 miles away. Here is how Joey stacked up against competitors…
Cost of Delivering a Large Desk 48 Miles
Cost of Delivering a Large Desk 48 Miles
Once again, Joey's costs for this home delivery were by far the most affordable compared to bids on uShip, Shiply, and College Hunks. In fact, all of the other bids are over $100 while Joey only charged $98. The lowest-paid price for a similar delivery by a competitor was from uShip at $159 — over 62% more than Joey's price of only $98 — and the prices only go up from there.
*After repeated phone calls to Two Men and a Truck, they were unable to provide us a quote. Each time they said a representative would get in touch with us to provide a quote, but never responded.
One reason that Joey was able to charge so much less for this delivery is because we are more than just a box truck moving company. In this delivery, we used a moving van which cut the costs significantly. On the other hand, both Two Men and A Truck and College Hunks always use box trucks, which makes deliveries more expensive.
6 Miles (from pick up to drop-off)
Joey delivered a loveseat and ottoman from Eyedia in Louisville to a residence 6 miles away. Here's how Joey did against competitors…
Cost of Delivering a Loveseat and Ottoman 6 Miles
Cost of Delivering a Loveseat and Ottoman 6 Miles
Joey's costs for this home delivery were by far the most affordable compared to bids on uShip, Shiply, and College Hunks. Joey's delivery cost was much more affordable than competitors mostly because we used a pickup truck instead of relying on a box truck. With Joey, we have a variety of vehicles to help ensure the lowest delivery cost possible to customers.
*After repeated phone calls to Two Men and a Truck, they were unable to provide us a quote. Each time they said a representative would get in touch with us to provide a quote. Unfortunately, we never got a response.
Summary of All Three Case Studies
In all three case studies, Joey charged substantially less than any competitor and also proved to be the fastest home delivery option in Louisville and Cincinnati. We also provide a high-quality customer experience that our customers can't stop raving about. Take it from our good friend Reed, one of our very first customers:
"If you want a business to move you in, you can use all sorts of people, but if you want just regular people who won't give you any hassle, go with Joey. Joey is very personable and professional and has a much friendlier face than other delivery companies I've worked with."
4 Ways Joey Cuts Costs for Home Delivery Services
Unlike other delivery companies, Joey is committed to keeping costs as low as possible for customers while ensuring that Joey drivers are well paid.
While this may seem like an impossible mission, it's actually much simpler than it might seem. Here are 4 things that Joey does to ensure home deliveries remain as inexpensive as possible.
1. Joey Is More Than Just Another Box Truck Company
Many delivery companies rely on using box trucks exclusively for home deliveries because of their storage space. And while box trucks may be optimal for some deliveries, they often add unneeded expenses for small or midsize deliveries.
Joey understands this and cares enough about its customers to use more than just a fleet of box trucks. The maintenance and gas costs of home delivery with a pickup truck or moving van are much lower than with a box truck.
Thus, offering these alternative vehicles makes delivery more cost-effective for businesses and retailers that don't need the extra storage space of a box truck.
Joey helps its customers find the right vehicle by asking strategic questions to determine what is being delivered and assess how much space is needed. Then a delivery can be quickly scheduled with an appropriately sized vehicle. Businesses that regularly use Joey for home delivery services can expect to save hundreds and maybe thousands of dollars each year just by using these alternative home delivery methods.
2. Don't Wait for Quotes — Joey Has Simple, Direct Pricing
Sites like Shiply and uShip require you to wait for a quote before you can schedule a delivery. Waiting for all the quotes to come in can take days, which only delays your delivery.
Furthermore, the quoted prices for Shiply and uShip are generally much higher than what you'd pay for the same home delivery with Joey. This is because Joey's prices are given before the delivery is scheduled, and they remain constant:
For the first hour, you pay a given hourly rate based on the type of vehicle used. After the first hour, you pay per minute.
With these fixed costs in place, you never have to waste time waiting for some other guy to send you a quote. Just log on to the app, put in your information, and a driver will be in touch shortly.
3. Rewards for Businesses With Every Home Delivery Service
Another way that Joey helps businesses save money on home deliveries is through our Rewards Program.
In addition to the cost savings businesses already receive, they will receive money back for every delivery. Whether customers pay for the deliveries or the business does, they receive quarterly earnings back to them. Learn more about Joey's Rewards Program.
4. Don't Pay For Labor You Don't Need
There are two major costs associated with home delivery — vehicle and labor costs. Many companies increase labor costs by assigning two people to make every delivery.
But most deliveries don't actually require two people to complete the job. This is just a redundancy that increases costs and can even cause delivery delays. For this reason, Joey's standard home delivery service includes one driver and one vehicle. This removes the additional costs of a mandatory second laborer.
Larger deliveries and multi-story deliveries often require a helping hand. With Joey, customers can assist in the delivery to reduce these labor costs. This provides customers with the flexibility to save money by helping in the delivery process or request an additional helper for an additional fee.
This is a very unique option that most other delivery companies don't offer — just another way Joey takes every step imaginable to save businesses and customers the most money possible.
Joey's Upfront Pricing Saves You Time & Stress
One of the unique features Joey offers compared to it's competitors is how they provide up-front pricing to businesses and individuals. Most delivery companies require a lengthy phone call or an online form (several pages in length) and this is all before you get an actual quote which can take days to receive. In contrast, Joey's transparent approach to pricing makes it easy for businesses and individuals to forecast their costs online or in the app before requesting a delivery — saving time and lowering stress.
Joey provides last-mile home delivery services for businesses, retailers, and individuals throughout the Cincinnati, Columbus, Dayton, Louisville, and Lexington regions. The low, fixed prices and commitment to cut costs wherever possible means that Joey's prices remain much lower than competitors despite the continuing global supply chain issues.
Start A Delivery Today!
Simply log on to the Joey app and begin scheduling your delivery. The app is available on both Google Play and the App Store. Additionally, deliveries can be made just as quickly on a desktop browser. Just supply your phone number and answer a few questions about your home delivery needs. Within a few minutes, a Joey delivery driver will be assigned to you to schedule a delivery date and time directly with them.